Lollywood star Armeena Khan responded to one of her fans in a sober way when he asked her to marry him.
She wrote on her Twitter account: "Sorry Sir, I'm already married,".
The Proposal
A fan had previously proposed the actress on Twitter about their wedding.
"Main aapse shadi krna chata hun," (I want to marry you), a proposed Altaf, a fan of Armeena Khan.
Armeena's Response
Armeena often responds positively to his fans without being aggressive or angry, and he gets appreciation from his fans from all over the world.
To the fan who proposed her, she calmly replied 'Sorry sir, meri shaadi ho chuki hai' which translates to – Sorry Sir, I'm already married'.
That's a sad end to the Fan's love story and marriage proposal but Armeena is being praised for her positive, calm and straigh-forward reply to Altaf.
She is not only a great artist but also a good person as she cares for her fans.
Yesterday, she wrote on Twitter asking her followers about the well-being of people and the important things that are happening in their lives.
She wrote; "How are you guys today? What made your day special ?,".
About Armeena Khan
Armeena Rana Khan is an actor who made his name in a very short time. And she is an outstanding model. One of Pakistan's most famous actors, has received a Lux Style Award, a Hum Award and a Nigar Award for his best performances in various parts of the showbiz industry.
As per her website, Khan is currently working on two major feature films, 'Yalghaar', slated to be the most expensive Pakistani film to date and 'Janaan" which will be the first sympathetic portrayal of Pushtoon culture. Additionally Khan is currently the 2015 celebrity face of 'Sprite' in South Asia.
She went on to study Acting in London at Ealing and Pinewood studios before focusing on her acting career full time.
In 2012, Khan took on her first acting role in an Art house Indian film. This was followed by her first Pakistani role in the drama 'Shabe-Arzoo Ka Alaam' (ARY Digital). Khan went onto perform in two British short films, 'Writhe' and 'Stranger Within Me'. These were selected for the 2013 and 2014 Cannes film festivals respectively (short film corner).
Armeena's Married Life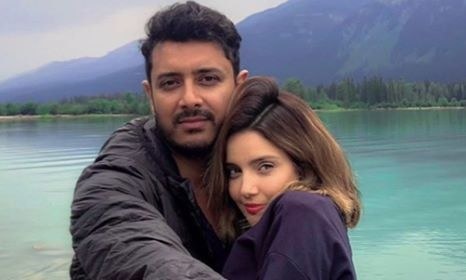 The model took to Instagram to announce that the couple had gotten married in an intimate nikkah ceremony which was followed by a reception party in those upcoming months.
"Presenting my husband @feslkhan, that's it guys, we are official. We will have a wedding party at a later stage. Thank you to everyone for understanding and supporting us. Love you all. Mrs. Khan. Happy Valentines Day," she wrote.
Previously, she took social media to confess that the two are relatives and childhood sweethearts extremely fond of one another, and we couldn't be happier for her.