You will soon see a new addition to your KakaoTalk emoticons. It's none other than Benny, the adorable bunny character that represents the brand's global ambassador, Jungkook.
K-Media reported that Calvin Klein will unveil 'Benny' emoticon wearing clothes worn by Jungkook. The brand will unveil the new emoticons at 2:00 pm on the 14th and launch a Kakao download service.
Benny is the latest creation of Calvin Klein to celebrate the year of the rabbit in 2023, as well as to honor their partnership with Jungkook, who is widely known as the golden maknae and bunny of BTS. Benny is not just a cute mascot, but also a fashion icon. He wears all the outfits that Jungkook has modeled for Calvin Klein's spring campaign, which showcases their denim collection and underwear line.
The emoticon series, titled "Benny's Denim Life", features 16 different expressions and poses of Benny in various Calvin Klein outfits. Some of them are casual and cool, such as a denim jacket with a white tee, a denim shirt with black jeans, or a denim vest with a hoodie. Others are more playful and cheeky, such as a denim hat with sunglasses, a denim apron with a spatula, or a denim bow tie with a rose.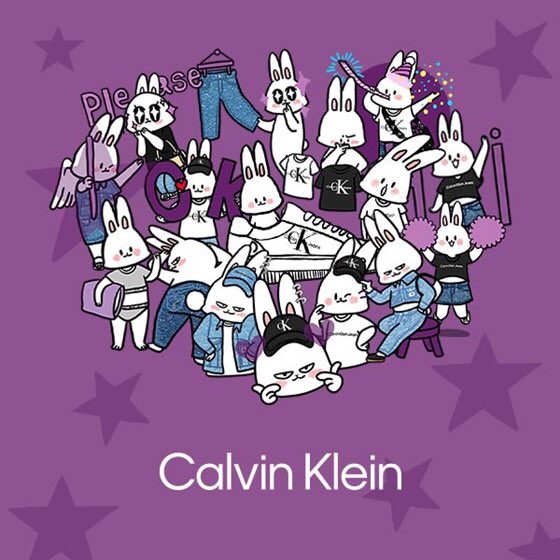 But what really caught the attention of fans were the outfits that hinted at Jungkook's future photoshoots with Calvin Klein. Some of them were quite daring and provocative, such as a crop top with underwear, a pair of denim pants with a hole in the back for the bunny's tail, or a black Calvin Klein t-shirt with a denim skirt. Fans couldn't help but imagine how Jungkook would look like in those outfits.
Fans expressed their excitement and anticipation for Jungkook's upcoming photoshoots with Calvin Klein, saying that they trust his professionalism and charisma to pull off any outfit. They also praised his versatility and beauty, saying that he can rock any style and make it his own. They also complimented Calvin Klein for choosing him as their global ambassador, saying that he is the perfect fit for their brand image and values.