BLACKPINK's Lisa has done it again! The K-pop star has set the internet ablaze with her latest airport fashion, causing a sold-out frenzy for one of her signature pieces. The deadly doll pink cheetah sweatsuit she wore looked effortless and stylish, showing her impeccable taste in fashion.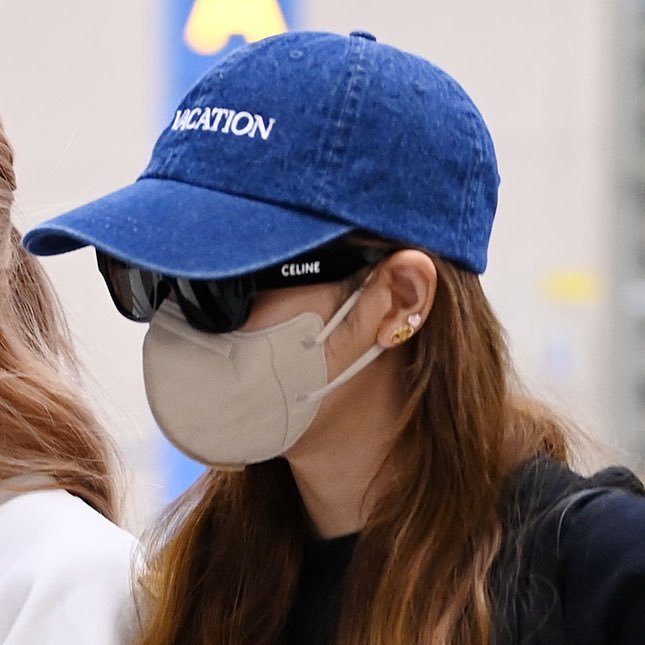 BLACKPINK's Lisa is undoubtedly one of the most popular and influential celebrities when it comes to fashion. The global superstar has been known for her impeccable style choices, which always turn heads and set new trends. Her recent airport appearance in South Korea with Rosé of BLACKPINK did not disappoint, as Lisa stepped out in a deadly doll Pink Cheetah Crewneck sweatshirt and matching Pink Cheetah sweatpants all in black with pink imprints.
The comfortable and casual look of the sweatshirt and sweatpants was elevated by the chic and stylish design of the deadly doll pink cheetah imprint. Lisa's fashion statement was completed with a HOHO COCO hat with "On Vacation" printed on it. The fun and playful cap was the perfect accessory to complete the look and brought the whole outfit together nicely.
Lisa accessorized her outfit with some of the latest fashion trends. She held Apple's AirPod Max headphones in one hand, showing off her tech-savvy side. Her Celine black romy bag was the perfect addition to her outfit, adding a touch of luxury to her casual look. The golden Celine earrings and black sunglasses were perfect accessories, complementing her overall style. The black slides with Celine were the perfect choice of footwear, providing comfort and style at the same time.
Lisa's fashion choices and style statement have always been one of the most talked-about topics in the K-pop world. Her ability to mix and match different styles and trends with ease and precision is what makes her an outstanding fashion icon. As seen in this airport look, her style remains impeccable, setting the bar high for everyone else in the industry.
Lisa's airport fashion was praised by fans and media outlets alike, who admired her effortless style and charisma. Some fans even dubbed her as the "Queen of Airport Fashion", as she always manages to impress with her different looks and vibes. Lisa has previously worn outfits ranging from casual to classy, from sporty to edgy, from cute to cool, at the airport. She often mixes high-end brands with streetwear labels, creating her own unique style.