The headline might not surprise you a lot this time. This has been happening quite a lot in the Crypto space these days. With social media influencers and celebrities jumping on to promoting crypto altcoins to their followers, stories of pump and dump have become a common place. The latest addition is from the FaZe Clan members.
How Was The Crypto Scam Done?
FaZe Clan member Kay has been permanently removed from the organisation for his pump-and-dump involvement in the 'Save The Kids' altcoin. After being paid to promote the altcoin, Kay dumped all of his investments in it causing the price of the coin to plummet heavily.
It was not just Kay from FaZe Clan who promoted the 'Save The Kids' altcoin. Other members of the organisation Jarvis, Nikan, and Teeqo were also involved. Each of them posted about the coin to their respective follower bases creating a price pump scenario. This gave the influencers the perfect time to 'dump' all of their investments when the prices were high. If you are new and wondering what's wrong in doing this, it's illegal, and of course, immoral.
FaZe Clan Issues Statement
FaZe Clan issued a statement on Twitter announcing the ouster of Kay from their organization and placing a suspension on the other three members 'until further notice'. Here's what the official Tweet reads.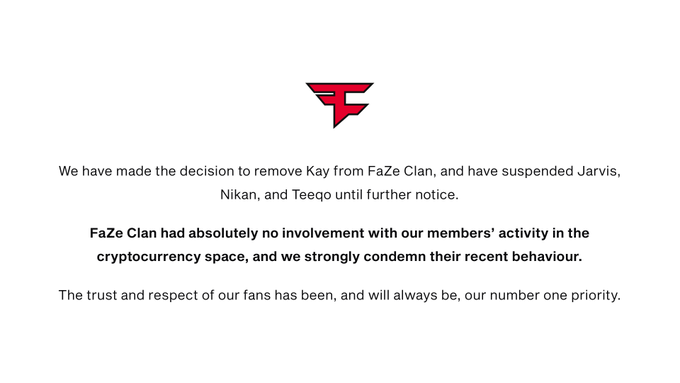 "FaZe Clan had absolutely no involvement with our member's activity in the cryptocurrency space," the org's July 1 statement read. "We strongly condone their recent behavior. The trust and respect of our fans has been, and will always be, our number one priority."
Kay's Apology
Kay joined the FaZe Clan over 7 years ago in 2013. The other member who has been suspended, Jarvis, is his younger brother who came on board in 2019.
"I didn't vet any of this with my team at FaZe and I now know I should have," Kay tweeted in a June 28 apology days prior to being released. "It was so irresponsible of me to speak publicly about any coins without knowing more & knowing now that they can do more harm than good."