UK stock markets have closed for the Christmas break in an upbeat mood.
The FTSE 250 jumped 1.15% to 20,531, hours before the Brexit trade deal with the EU was announced.
But the blue-chip FTSE 100 ended the day's trading up just 0.01% at 6,502 as traders waited for confirmation of the deal to emerge.
Pound Rises
Market positivity will give a seasonal boost to investors, including the millions who have a financial stake in stock markets through their pensions.
The pound was up, showing a gain of about 0.7% against the dollar to touch $1.36 before falling back slightly. It also gained 0.5% against the euro, rising to €1.1136.
Across Europe, shares were also on the rise, although the key Frankfurt stock market was closed.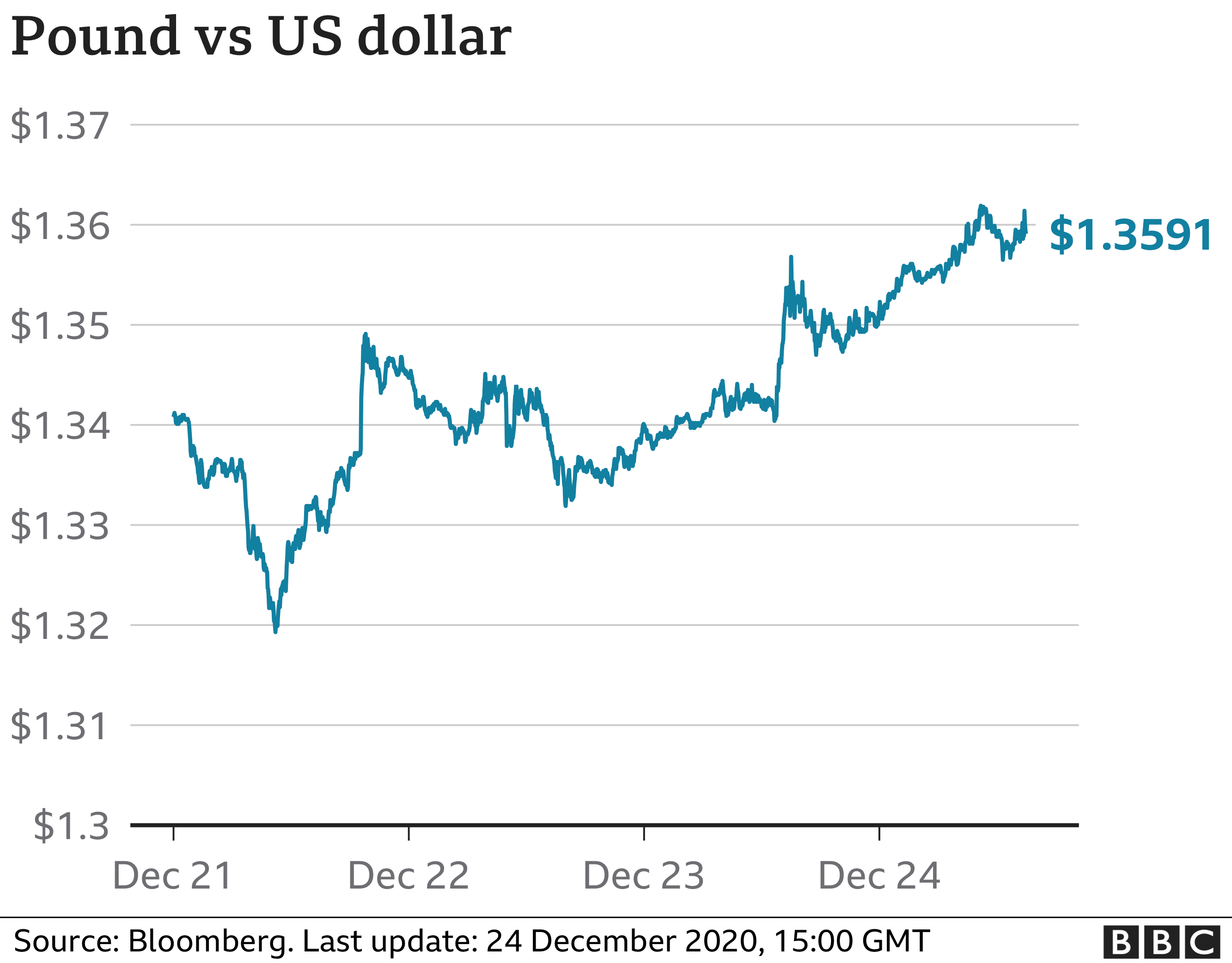 Asian markets closed positively with Japan's Nikkei gaining 0.54%, while markets in Australia, South Korea and Singapore also saw modest rises.
Sterling has always been the most reliable of Brexit trade deal sentiment – the pound rose against the US dollar yesterday and continued that rise this morning.
It started the week worth $1.34, dropped to $1.32 as hopes of a deal faded, and this morning climbed to $1.36.
Stock Index Reaction
The stock market reaction today has been muted – the FTSE 100 was barely changed this morning, but much of the reaction to the looming deal took place yesterday.
The FTSE 250, a stock market index that is regarded as more representative of the UK economy, climbed nearly 2% on Wednesday.
Lloyds Bank, which investors have come to see as a bellwether of sentiment towards a trade deal, rose 7% yesterday and another 6% this morning.
An agreement on fishing rights has been the main stumbling block of the trade talks as an end-of-year deadline looms.
The pound has seen plenty of volatility in recent weeks as negotiations between UK and European ministers have stalled and deadlines missed. Last week, it had hit a two-year high above $1.36.
The British currency had surged almost 1% in the previous session to snap a three-day losing streak in what has been a roller-coaster ride.
"Sentiment improved after headlines started appearing that the United Kingdom and European Union have finally reached a provisional Brexit trade agreement." said Jeffrey Halley at foreign exchange firm Oanda.
Impact On The General Public
If your reaction to "market movements" is that you are not directly affected because you do not invest money, think again.
You are likely to be one of the millions of people with a pension – either privately or through work – who have their savings invested by pension schemes.
As much as £600bn is held in defined contribution pensions at the moment.
Pension savers mostly let experts choose where to invest their money to help it grow.
But that means the value of your savings pot is influenced by the performance of the investments.
So rises or falls in shares can affect your pension and effectively your savings, which is why you are affected by major market movements.
However, it's worth bearing in mind that pension savings, like any investments, are usually a long-term bet, so short-term market fluctuations are not something to panic about.
"There's a huge difference between knowing you're connected to the stock market and panicking about it," says Sarah Coles from investment platform Hargreaves Lansdown.
"Stock markets always go up and down over the short term," she adds. "It's important to bear in mind that investors have lived through major ups and downs in the past and come out the other side."