Actor Kangana Ranaut was recently challenged by Diljit Dosanjh on the social media platform Twitter. She was called out by the singer-actor for misidentifying an old lady at the 'Chalo Delhi' farmers' protest in Delhi comparing her as the same lady at the Shaheen Bagh demonstration earlier this year which was held against the centre's controversial citizenship law.
Kangana got really bitter with her replies to Diljit after Diljit accused her of spreading misinformation and called her out in public.
War Of Words
Doubling down on her fury against the farmers' movement challenging the new agricultural laws that they say will leave them at the mercy of large corporations and override safeguards against being cheated, Kangana went ahead and called Mr. Dosanjh "Karan Johar's pet".
Kangana has an established track record of meetings with BJP leaders and also never fails to express her ardent support for India's ruling NDA Government publicly whenever she gets a chance of doing so.
The Udta Punjab fame hit back at Kangana for trying to throw shade at her disonformation campaign with abusive words and unpleasantries that started on Wednesday. They had a fair share of replies until one of them deleted the original tweet itself. The ambience has definitely gotten hotter in the social place.
Besides being rebuked by Mr Dosanjh and several other prominent Twitter users, Kangana Ranaut has also been sent a legal notice by a Punjab-based lawyer for misidentifying a demonstrator Mahinder Kaur as Bilkis Bano, famously known as one of the "Shaheen Bagh dadis" and alleging she had joined the protest for ₹ 100.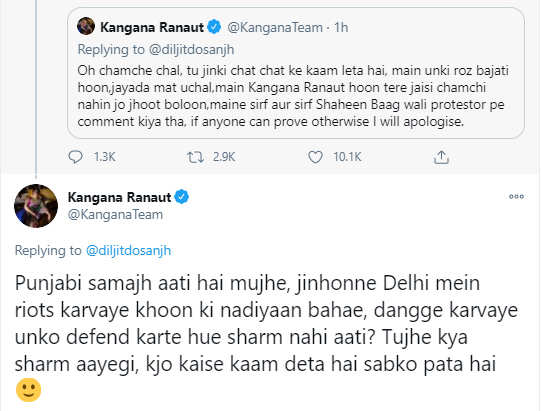 Kangana Is Anti-Farmers Protest
Ms Ranaut, along with other right-wing commentators, has placed herself squarely on the opposing side of the farmers who braved a brutal police crackdown in Haryana before being allowed to hold a peaceful protest in Delhi against the new agricultural laws.
As a firvolous supporter of the BJP-led National Democratic Alliance (NDA) government's policies, the star actess Kangana has taken it upon herself to label the ongoing upheavals and protests by the farmers as misguided, motivated and against the interest of the country.
What Are The New Farm Laws?
On 27 September 2020, President Ram Nath Kovind gave his assent to the three 'Agriculture Bills' that were earlier passed by the Indian Parliament. These Farm Acts are as follows:
1- Farmers' Produce Trade and Commerce (Promotion and Facilitation) Act, 2020
2- Farmers (Empowerment and Protection) Agreement on Price Assurance and Farm Services Act, 2020
3- Essential Commodities (Amendment) Act, 2020
Here's a detailed report explaining everything one needs to know: