Chrissy Teigen took to social media on Monday morning to mark her 7th wedding anniversary with her husband, John Legend.
The model shared a bunch of snaps from their wedding seven years ago in Lake Como back in 2013. The couple shares two children and another one on the way. Their children, Luna and Miles, gave them homemade gifts.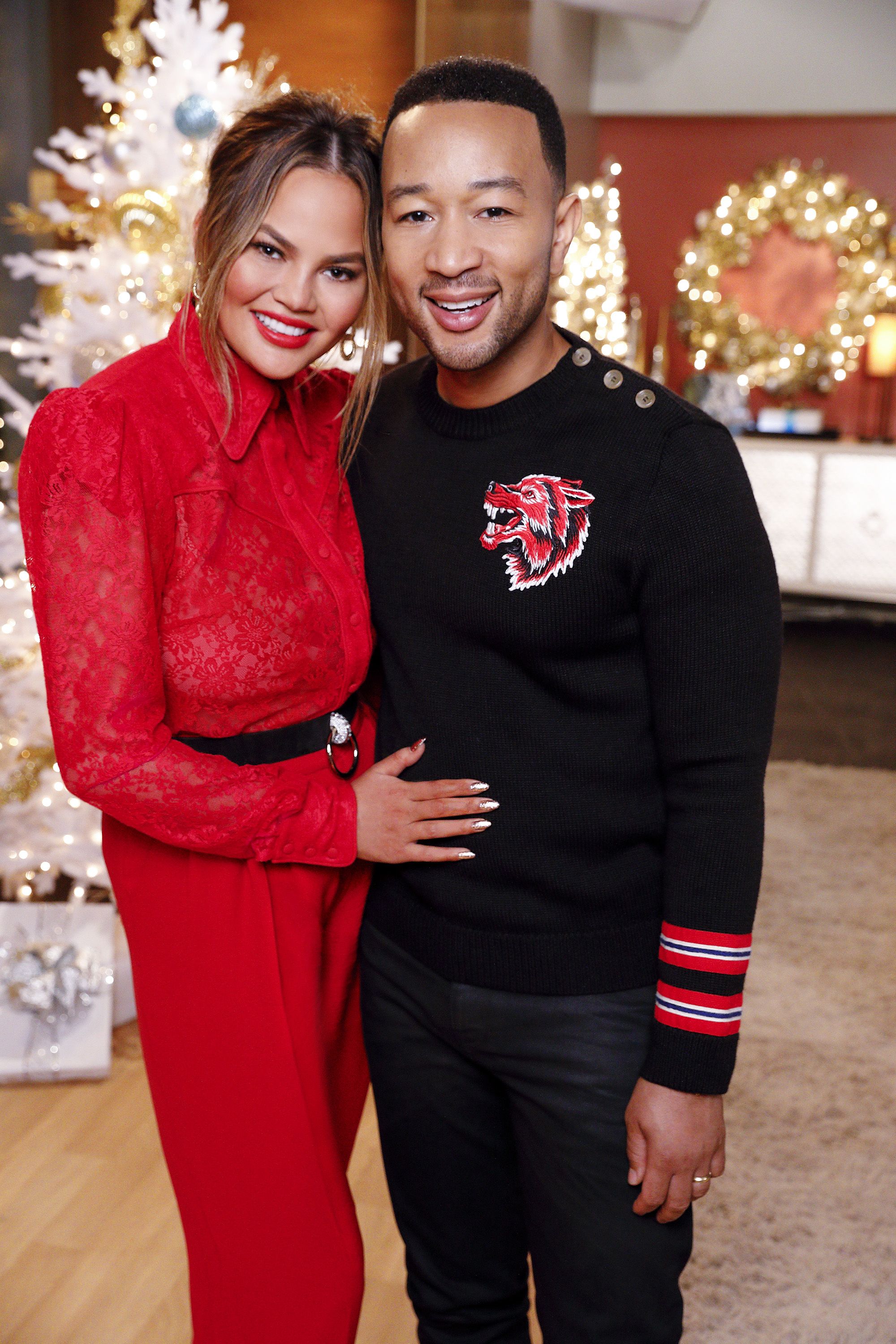 Chrissy posted a snap of the beautiful card with Disney stickers all around and a piece of blue paper and a family photo positioned in the middle. The mother was so excited and happy to have received it that she posted it and told her followers to look how cute her gift was. Luna wrote, 'Hi mommy and dad, so happy you got married. I love you, Luna.'
Another drawing had the happy couple just standing next to each other after they exchanged their vows. It was from their wedding reception at the Villa Pizzo in Italy. Chrissy said, "This is us on our wedding day,' Chrissy shared of Luna's drawing. 'I did actually have a red dress on, it was my nighttime dress. Shes' got a good memory just from old pictures."
Miles also had a homemade gift for his parents and had a black-and-white picture from their nuptials. However, it had a blue marker drawn across the couple's faces. Chrissy asked Miles about the drawing and he gave a cute reply saying he was trying to make his mommy. The model gave a hearty laugh and said she loves it.
"You're like a brother to me!!"- Chrissy
Chrissy and John are pregnant with their third child. The model posted a video of the kids sharing in the celebrations. However, in true Chrissy fashion, she poked fun while wishing John on their anniversary. She wished him a happy 7th anniversary and that they were together for 14 years now. The model then added that she loves him and described him as her "best pal". However, while concluding the sweet message, she said, "You're like a brother to me!!"
Few snaps from the couple's wedding were posted where Chrissy was seen walking down the aisle in one of three Vera Wang dresses for her big day. The model then changed into a mermaid style gown with a pleated bodice to take photos with her dapper new husband.
Teigen and Legend met in 2007 while on the set of his music video for the song Stereo. The couple was engaged four years later after a romantic proposal while on holiday in the Maldives.
John and Chrissy earlier announced that they are pregnant with their third child in the new music video. The video called Wild, shows John holding Chrissy as she rests her hands on her baby bump.
The music video was released on Thursday and it also includes their two children Luna and Miles. The couple gives us a lot of PDA while they play with their children.
Wild is set up at a tropical beach where horses roam around the sand as a symbol of their love. At one point the video shows the couple fighting as Chrissy pushes John away. With tensions rising, John is seen running in the forest in a worried expression.
Chrissy And John Announcing Their Pregnancy
Ultimately, Chrissy walks back to John and patch things up. They play with their children and hold them in their arms. The couple hasn't yet confirmed the news. However, sources have confirmed to People that the chef is expecting her third child.
Chrissy tweeted smiling emojis as the video was released and did not confirm the news. Fans, however, congratulated the model but also some of them are rather surprised. The model had undergone surgery to get her breast implants removed back in June.
Chrissy had said candidly last year that she wanted to wait a little longer before expanding the family further. Her response came after a fan asked her when she was going to have another child. Chrissy replied, 'Gonna try to wait a few years before trying again. These guys are exhausting!'
In a candid interview on Armchair Expert, John Legend opened up about his past and explained how Chrissy Teigen changed everything. The singer talked about his history of cheating. It was a podcast with co-hosts Dax Shepherd and Monica Padman.
Dax Shephard began the conversation by admitting he has a horrendous past where he used to cheat a lot. He said when he heard cheating songs on John's album and thought 'I see another fisherman at sea'. Referring to that Dax asked John if he had a similar past.
John agreed saying, he did have a past with cheating. He said especially in his 20s and explained how you go through a lot of your life in your teens. John continued saying he was younger than everybody in high school and college because of which he didn't get girls. But when he started getting the attention, he loved it.
John Admits Life Changed After He Met Chrissy
The singer further explained that he got away with 'technically cheating' with ill-defined. But he admitted it was really cheating. John said he was dishonest and selfish and all of this happened before he was famous. He said, "I escaped 'technically cheating' by keeping my relationship ill-defined. But it was really cheating," he continued. "I definitely was dishonest and selfish… It was happening before I was famous."
John explained that as he got more famous, he took advantage of that at the time. But things changed when he met his wife, Chrissy Teigen. The couple tied the knot in 2013 and since have had two kids, Luna and Miles.
The Oscar winner admitted that after a point, he realized he is happier being honest. He continued he was happier being faithful and being in love with one person. John further said that he decided after a point that the person was Chrissy. He then decided that he will not mess with anyone else anymore.
The singer explained that he felt lighter and being honest made him feel like he was free. When Chrissy and John met, they connected instantly and hooked up on the first date itself. John said that they both have talked about it before and admitted to being intimate with Chrissy on the first date.
However, John also revealed that both of them were dating other people at that time. He said there was 'looseness' at the beginning and they fell in love almost sooner than later.