A few months after it was launched in 190+ countries, India's digital entertainment platform Zee5 has made its presence known not only in its homeland but also in the SAF region which includes Pakistan. The OTT platform aimed to create and produce content that was transboundary and that would appeal to South Asians scattered around the world.
It looks, however, that the network will not have a smooth sail into the Pakistani market, even though it has sent the first five Pakistani series to broadcast exclusively on the platform. Amid the widespread and widely followed "ban on tradition" in the Indo-Pak region, and favored by international rights groups on both sides of the border, a notice comes from Pakistan's State Bank ordering to block any form of payment for subscribers accessing Zee5 content in Pakistan .
Sad New Zee5 Subscribers In Pakistan
The notice, addressed to CEOs / Presidents of banks, EMIs, PSOs and PSPs operating in Pakistan, states that the order is being sent as a result of decisions made by the Government Sector, the Government of Pakistan.
The news may come as another disappointment for Zee5 Pakistani fans. The platform had just begun to draw closer to some of the most important markets such as Pakistan. Now Pakistani viewers will not be able to pay to receive the required subscriptions to view content available on the platform, including exhibitions designed exclusively for the platform by certain Pakistani artists and directors.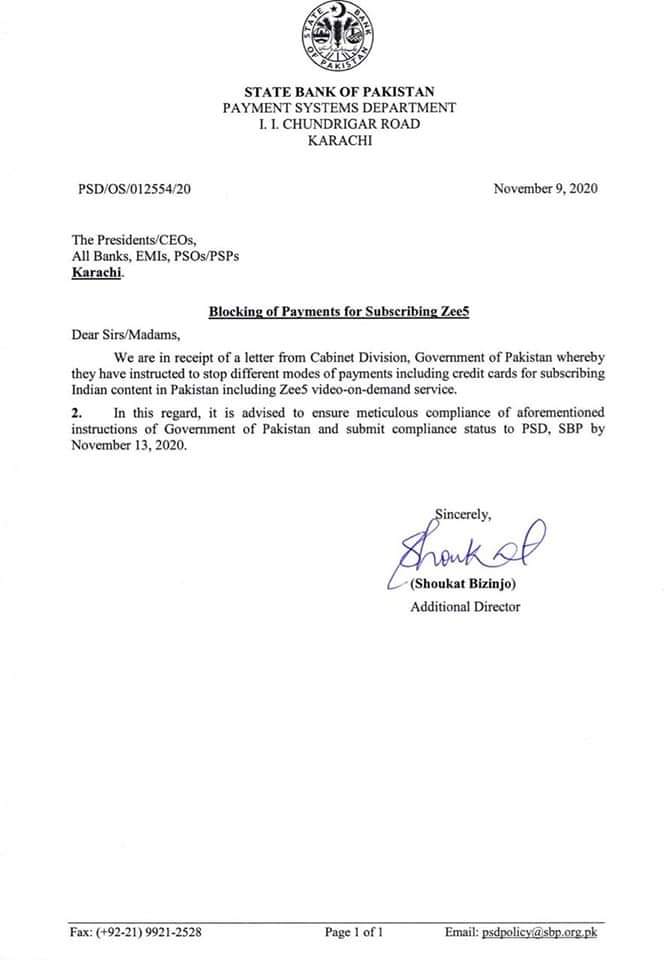 The network had released the fifth real series from Pakistan, two of which were released on the broadcast platform – Asim Abbasi's Churails and Mehreen Jabbar directorial Ek Jhoothi ​​Love Story. There are three series yet to be released – Dhoop Ki Deewar, Mann Jogi, and Abdullahpur Ka Devdas. The ban raises the question of whether Pakistani audiences will be able to watch the series in the country or not.
How Will This Effect Creators?
Keeping aside the news of disappointment for Pakistani-based spectators, this move will create resentment at Zee5 administrative levels. They had deliberately campaigned 'Dil Se Desi' in APAC, MENA, and Africa for the diaspora of India, Pakistan, and other South Asian countries; and customizable campaigns, such as 'Meet Love' for two key neighboring markets: Pakistan and Bangladesh. Now that Pakistani viewers will not be able to sign up, the platform may need to redirect and rebuild such strategies.
The biggest loss, however, has occurred to the restricted music community and the Pakistani entertainment industry. which has had limited space for prosperity due to a number of internal and external, natural, man-made disasters including the COVID epidemic and the PEMRA disruption. Speaking to Galaxy Lollywood, a veteran broadcaster and CEO of EPK, Mr Rashid Khawaja emphasized that the decision would hurt Pakistani talent.
Will It Ever Come Back?
"It will be Pakistani artists, directors, and producers who will be lost at the end of the day," Mr Khawaja said. "Anyone who has made a decision has never consulted with those involved in the process. It seems to be a government-only decision without regard to the impact it will have on Pakistani content creators. "
He said Zee5 would be affected to a lesser extent because he did not think the money they earned in Pakistan was big enough to affect their overall income. He also pointed out how all payments were made with the Pakistani telecommunications company and therefore it is not the same as that all money went abroad.
Responding to whether he thought there would be a reversal of this sudden decision, Mr Rashid Khawaja replied that he himself did not think anything major was going to happen.
"No such action has been taken in the past in Pakistan so the situation will be rectified this time around."
Synopsis
The ban on Zee5 subscriptions from Pakistan will inevitably affect Pakistani content creators in a negative way. It can continue to bring down a certain category of community of artists, who have found a new platform to showcase their talents, tell their stories, and make money for themselves, without having to compromise on their art. Zee5 has given Pakistan content the opportunity to travel globally on a large scale. It is unfortunate that this ban imposed by the Pakistani government may be the reason why Pakistani content will have to release this one gold opportunity to compete in the world market.