Ella Emhoff is the step-daughter of the new US Vice President Kamala Harris. She has recently secured a modeling contract.
The IMG modelling agency made it public on Thursday that it had signed the 22-year-old, a week after she attracted international attention at the inauguration ceremony.
Cheekiness And Joy
"Ella communicates this moment in time," IMG president Ivan Bart told The New York Times. "There's a cheekiness and a joy she exudes."
She joins the young poet Amanda Gorman present in Joe Biden's inaugration in being on IMG books.
The agency also boats the likes of Kate Moss, Gigi Hadid and Gisele Bündchen on its roster.
Emhoff is the daughter of Vice-President Harris' husband Doug Emhoff and his first wife, filmmaker Kerstin Mackin.
Shot To Fame
Emhoff took over the internet with her dress and playful performance, as her stepmother and President Joe Biden were sworn in.
According to Vogue, Emhoff's inauguration dress, designed by Batsheva Hay, "matched her signature Brooklyn quirk with the solemnity of the occasion".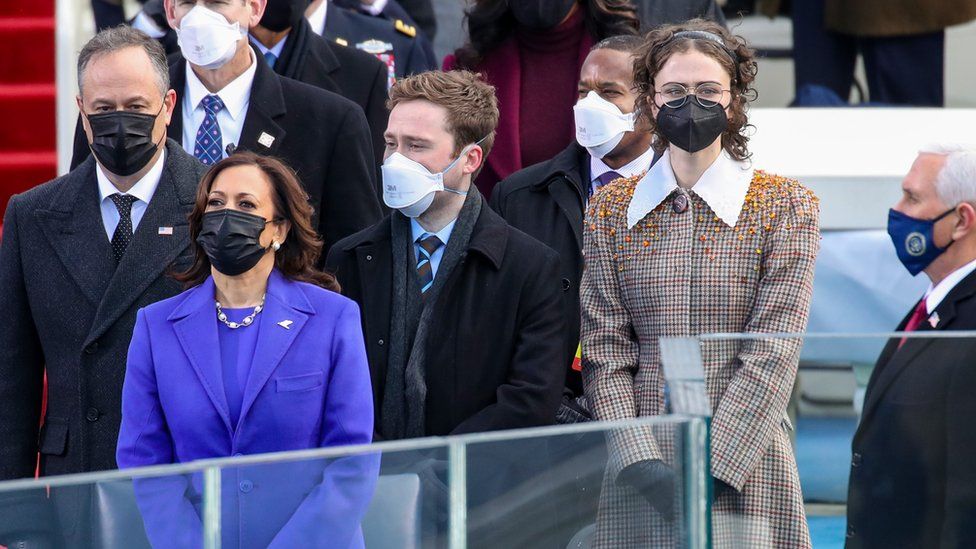 "Her jewel-encrusted Miu Miu coat made it clear that she wouldn't be hewing to any outdated notions of what a White House-adjacent young woman should dress like," the fashion magazine added.
Emhoff was seen on camera rubbing her eyebrows as she sat behind former Vice President Mike Pence, a moment that generated interest in viewers.
Her mother later tweeted to explain that Ella was in fact directing the look at her, but that didn't stop the clip going viral.
So much so that her Instagram followers jumped from 50,000 to over 300,000 in less than a week.
Emhoff's Modelling
Emhoff's social media channel showcases her humorously modelling a tote bag on her head; as well as her newly-created patchwork uniform she said she wears inside during lockdown.
She can also be found by modeling a matching green knitted hat, bikini and bag combo, while proudly displaying her natural armpit hair.
Earlier this week, The Times reported: "Emhoff is a member of the rising generation. Scrolling through her public Instagram account shows that she crochets her own clothes; doesn't shave her armpits; and has several tattoos."
"Other posts implore her followers to wear facemasks and to stay inside. Emhoff might be new to the political sphere, but she may yet make use of her new platform – and she could certainly be an asset to Harris, a link to the priorities of a demographic that's seeking change on a grand scale. At the very least, she might shake up the wardrobes at the White House."
How Did Kamala Meet Ella?
In an interview with Oprah Magazine earlier this year, the politician explained that she had taken her time before meeting the children, as she wanted to look good. When she finally did, she picked up a can of cookies that was neatly tied with a bow.
"I was determined not to insert myself in their lives until Doug and I had established we were in this for the long haul," said Vice-President Harris.
"Kids need consistency; I didn't want to insert myself into their lives as a temporary fixture because I didn't want to disappoint them. There's nothing worse than disappointing a child."
Emhoff now joins Gorman at IMG, a young poet who also caught the eye of viewers during President Biden's inauguration.