The Duke of Sussex has drawn parallels between the treatment of his mother and wife, in teaser clips of a much-anticipated Oprah Winfrey TV special.
In two 30-second clips released by CBS, Harry says he fears history "repeats itself" before he and Meghan decide to step down as part of the royalty.
March 7 – Interview Release Date
Winfrey appears to be asking Meghan if there had been a "breaking situation" and if she had been "quiet or silenced", but the duchess did not speak on any of the clips.
The American interview will air on March 7th.
It is unclear when the show, Oprah With Meghan and Harry: CBS Primetime Special, will be shown in the UK.
What Is Being Talked In The Interview?
In the full program Meghan will talk about marriage, motherhood, royal life and how she copes with the "great social pressure", CBS reported.
Prince Harry has previously said he has resigned from royal duties in order to protect himself and his family in a "toxic" environment created in the UK by the media.
Harry's late mother, Diana, Princess of Wales, left Her Royal Highness title when she divorced the Prince of Wales in August 1996.
She died the following year after being hit by a car in Paris. The driver was driving under the influence of alcohol and the car was being followed by the paparazzi on motorcycles at the time of the accident.
Repetition Of History
In episodes from upcoming TV specials, a picture of young Prince Harry with Diana is shown as the chief says: duke says: "I can't begin to imagine what it must have been like for her going through this process by herself all those years ago, because it has been unbelievably tough for the two of us – but at least we had each other."
Harry also tells Winfrey: "What bothered me the most was the repetition of history.
"For me, I'm just really relieved and happy to be sitting here, talking to you with my wife by my side."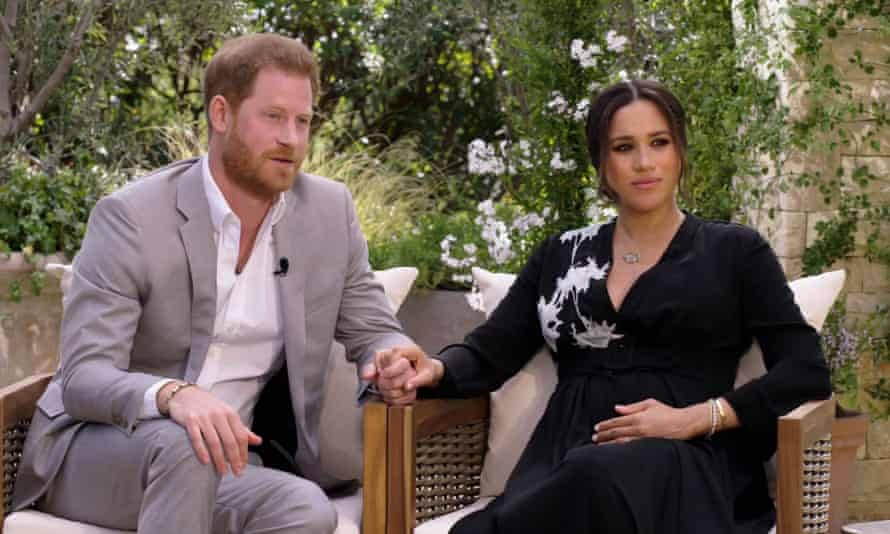 Winfrey is Meghan's friend and attended the couple's wedding in 2018.
In a full interview, Meghan and Harry talked about their move to the United States last year and their plans for the future, according to CBS.
Speaking to talk show host James Corden last week, the duke insisted the couple were "stepping back rather than stepping down" as senior royals.
He said the situation was "detrimental to my mental health" and "did what any husband [or] father would have done in such a case".
This first insight into Oprah's much-anticipated conversation is designed to draw us into their solid planning and rhythmic music.
They are a taste of what is to come.
The Teaser
At the moment of the video, Meghan does not say a single word. We will have to wait and see.
But the questions Oprah poses to her strongly suggest resentment and frustration. The language is of being silenced and of surviving something.
The talk from Harry was about protecting his wife and being able to escape the pressure and hardships they were feeling.
In Oprah, the couple has chosen a friend to discuss and interview with them in a non-aggressive style.
She is an expert at getting interviewees to open up and she will have encouraged them to reveal what went wrong behind the palace walls.
That is what will concern the Royal family and the royal court.
'Service Is Universal'
Last month, it was announced that the duke and duchess would not be returning as working members of the Royal Family.
The couple said at the time that "service is universal" and offered to continue supporting the organisations they represented.
Prince Harry and Meghan's honorary military appointments and royal patronages will be redistributed to working members of the Royal Family.