One-year-old Lordstown Motors will become a publicly traded company in an effort to bring its commercial electric pickup truck, the Endurance, to market. And it will do this with more support from General Motors than was previously known, according to financial filings. Electric truck maker Lordstown Motors is the latest company to find a ticket to ride to Wall Street through a merger with a blank check company.
Lordstown Motors, which plans to make an electric pickup for commercial fleets called the Endurance, said Monday it will combine with an already public firm named DiamondPeak Holdings Corp(DPHC). The company said the deal should help it fulfill its goal of beginning production on the Endurance in the latter half of 2021.
DiamondPeak shares rose nearly 15% in early trading on the news Monday.
Information On The Deal
The merger is expected to close in the fourth quarter. After it's complete, DiamondPeak will change its name to Lordstown Motors and its ticker to RIDE.
Several EV startups such as Nikola have enjoyed surges in their stock prices as Tesla's popularity—seen in historic gains in its stock price—has grown exponentially in recent months. A company such as Lordstown will be looking to ride the wave over enthusiasm for alternative-fuel vehicles by going public. As a new company grows, it typically goes public via an IPO (initial public offering), usually after being in business for a few years and having a business plan and product that excite potential stock investors. But electric-vehicle startups with upcoming electric pickups, notably Lordstown and Nikola, are skipping all that and using what are called "blank check" companies (also known as special purpose acquisition companies) that are already listed on the stock market.
This allows the startups to open up to public investment as quickly as possible. TheWall Street Journalcharacterized the move as a sort of "reverse merger." Today Lordstown announced such a plan.
The transaction is the latest deal with a so-called special purpose acquisition company. Privately held firms are increasingly bypassing the more traditional route of making it to Wall Street — selling shares through an initial public offering — in favor of mergers with an already public SPAC.
As part of the deal, Lordstown Motors will receive $500 million in financing from Fidelity, Wellington Management and the Federated Hermes Kaufmann Small Cap Fund as well as funds managed by BlackRock (BLK).
Lordstown – The Startup
Lordstown Motors is entering what is shaping up to be a highly competitive slice of the EV market, with electric pickup trucks coming from Tesla, Ford, GM, Rivian, and Nikola. Burns said at the Endurance unveiling that his startup is "going to beat everyone to market," though, and believes Lordstown Motors has an advantage in focusing on making purpose-built work trucks and selling them only to fleets.
The startup also has a leg up on most others, in that it already has a factory: the Lordstown, Ohio, plant that used to be occupied by GM.
Revealed in June, the Endurance is a full-size electric pickup truck with about 250 miles of range. One of the truck's standout features is that it is powered by four electric hub motors, with one in each wheel (as opposed to placing them on the axle). This makes it possible to precisely deliver differing amounts of torque to each wheel, which helps in tough driving conditions. The truck will start at $52,500.
In May 2019, Trump tweeted surprising, puzzling news: GM CEO Mary Barra had informed him that her company was selling the plant to Workhorse. Despite never being profitable and surviving mostly on a series of lifelines from hedge funds, Trump said this was "GREAT NEWS FOR OHIO!"
But Workhorse didn't buy the plant. Instead, Burns (who had left Workhorse) started Lordstown Motors, which reportedly borrowed $40 million from GM to buy the factory. Workhorse sold the intellectual property for its pickup truck to Lordstown Motors for $15.8 million and took a 10 percent stake in the new startup. Burns and Lordstown Motors also agreed to give Workhorse 1 percent on every Endurance truck sold (for the first 200,000) and1 percent of any debt or equity financing — meaning Burns' old startup also stands to benefit from Lordstown Motors going public.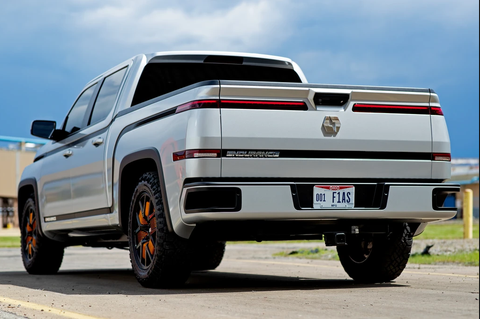 Lordstown Motors' ties to GM didn't stop at the factory loan. GM is investing $75 million in the go-public transaction and gets a seat on the startup's board of directors — though just $25 million of that is cash, according to an investor presentation filed with the Securities and Exchange Commission. The other $50 million comes in the form of "plant assets," "plant permits," and operating costs at the factory that GM has covered since Lordstown Motors took over in November 2019. Lordstown Motors will use "GM components" in the Endurance, as the Detroit automaker is hooking the startup into its Tier 1 supply chain.
While GM has its own electric pickups on the way in the form of a Hummer truck and a full-size Chevy model, the company did recently try to invest in another EV startup: Rivian. But GM was ultimately spurned by the startup after trying to negotiate an exclusive deal. Rivian wound up taking $500 million from Ford (and much more from Amazon) and will collaborate on at least one vehicle for the Lincoln brand.FRIENDS IN THE HIGHEST PLACES?
Lordstown Motors also appears to have the support of the Trump administration. Beyond Trump's original tweet about the factory sale, Vice President Mike Pence appeared at the Endurance unveiling. So did Department of Energy head Dan Brouillette. That could come in handy, as Lordstown Motors says it is a "candidate" for a roughly $250 million loan from the DOE's Advanced Technology Vehicles Manufacturing (ATVM) program — the same program that helped put Tesla on the map a decade ago. The DOE hasn't given out an ATVM loan in years, and the Trump administration has proposed killing it altogether. But it helps to have friends in high places, especially in this administration.
With both pickup truck and electric vehicle sales trending upward in the US, Lordstown Motors believes it can generate $118 million in revenue next year and $1.7 billion in revenue in its first full year of sales in 2022, according to the presentation. It expects to be able to make about 31,000 trucks in 2022, with production more or less doubling each year after that. The startup also says there is "potential to enter the SUV market over time."