Joe Jonas and Sophie Turner welcomed their newborn daughter Willa and the baby seems to have brought the new parents closer and coser.
The couple is happier than ever to have Willa and they are getting the hang of being new parents. An insider revealed that the new mother has adjusted to motherhood wonderfully and she is loving every part of it. The source also added that she has always had a 'chill vibe' and that hasn't changed since she gave birth.
"She has such a calm demeanor about her and has taken on this new chapter like a pro. Joe has been a total hands-on dad the entire way. He's more than a support system, he's an equal partner and they make a great team," the source added. The couple has yet to confirm their pregnancy or that they gave birth to their newborn daughter. However, they were both spotted out and about with Sophie's growing baby bump.
Another insider has also revealed that the couple has faced certain challenges as any other new parents do. However, the couple still seems to be enjoying this magical time of their lives. The insider explained, "Joe and Sophie are taking being parents all in stride. It is very fun but also challenging since so many things are so new in their lives."
According to the source, Sophie has taken the role of being a mother like a rock star and really enjoys every day being a mom. It is also revealed that it has been a wonderful change and it is everything she always dreamed it to be. The insider added that Sophie really appreciates that she can share this experience with Joe.
Sophie Shares Throwback Photos of Her Pregnancy
The Game of Thrones actress had given us a sneak peek of her baby bump as she shared her never-before-seen pictures on Instagram. The actress took to social media to share a series of pictures while she was pregnant with her first child with husband Joe Jonas.
The couple welcomed their baby girl, Willa back in July. Sophie went ahead to give fans a look at her bare baby bump in two pictures. One of the pictures shows Sophie hanging out in the pool with her dog. In another one of the pictures, she is sitting on an outdoor couch.
In another sweet snap, the picture shows Joe's hand caressing Sophie's baby bump. The actress captioned all three pics with various emojis.
Both Sophie and Joe have not spoken about their pregnancy publicly. However, their representatives did confirm Willa's birth in a statement back on July 27.
A source also revealed that Joe and Sophie were closer than ever after welcoming their baby girl into the world. The source said even though circumstances are different because of the pandemic, Joe was by Sophie's side while she gave birth. The couple is reportedly very happy as now they can spend time with their daughter and get used to their life together.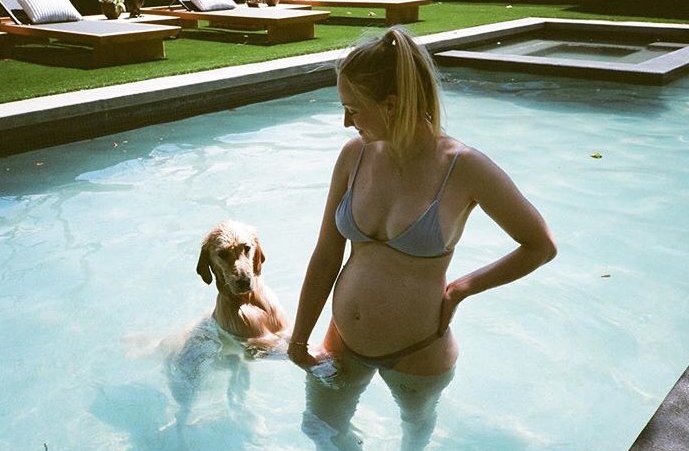 Sophie gave birth, at a Los Angeles hospital on July 27. The couple hasn't yet confirmed the news. According to sources, Joe and Sophie have welcomed a baby girl and named her Willa.
Sophie Could Not Wait To Be A Mother
A source revealed that the couple is over the moon and is already gloating on this new addition in their lives. They further said the couple is taking their time to enjoy this moment. The couple has only shared the news with family and friends. Sources say, "With the pandemic, Joe and Sophie have been very cautious about who is around them and their little girl."
The wonderful news comes after Sophie admitted that she cannot wait to be a mother. An inside source previously revealed that the couple is very happy and excited about this phase of their lives. They are getting ready for their baby.
The source also said that Joe and Sophie are trying their best to be active, They go for walks and hikes together. The couple was seen going for walks several times. Their outing inLos Angelesshowed Sophie glowing with her baby bump as she was walking with Joe.
The source further revealed that the entire family is waiting for this new baby to arrive. Sophie is going to welcome the baby soon and they can't wait to shower all their love.
News broke of Sophie's pregnancy in February. The couple was snapped shopping at a children's store in Studio City, California. In May, Jonas talked about spending time with his wife while under quarantine amid the coronavirus pandemic.
In an interview in May, Joe talks about their quarantine together amid the coronavirus pandemic. He said since they got married last year, it is still new. So they are having a good time. Joe also reveals that they were on tour for a long time, so spending time at home is 'kinda nice'.