Upcoming Pakistani Dramas- Ishq-e-Laa, Amanat, Doobara and more with an amazing star cast are expected to air soon. Some of them are more appealing than others. Here is a list of those Upcoming 6 Pakistani dramas, get the glimpse.
Ishq-E- Laa
Hum TV announced a new project Ishq E Laa, in the works with industry powerhouses Sajal Aly and Yumna Zaidi sharing the screen. To add to the excitement, this would be singer Azaan Sami Khan's debutant drama. After teasing the audiences with teaser clips of the first look, the actualIshq-e-Laatrailers are finally here.
"Embark onIshq-E-Laa'sspiritual journey with a soulful young man lost in search of divinity and eternal love." source HUMTV. However, what we can tell from the two trailers, the story seems to revolve around two women from vastly different backgrounds. but have one thing in common: that they are incredibly strong women who fear no one.
Trailers
The first trailer focuses on Sajal Aly and Azaan Sami Khan's story. While Khan works what seems to be a corporate job, Aly is a journalist whose job sees her do a lot of fieldwork. She's passionate about her job as seen in a snippet. In one of the scene where Khan asks her if she'd leave her "world" for him to which she responds that she won't because her job means as much to her as his means to him. But her job doesn't come without danger. In another snippet, her mother worries about her safety.
The second teaser ofIshq-e-Laafocuses on Yumna Zaidi. At first glance, she seems to be a shy girl from a poorer background. She's seen to be constantly harassed by neighborhood thugs who don't hold back from physically touching her. But it seems as though she's had enough as in her voiceover she's heard saying she longer wants to live life scared. And so comes her personality change and she bravely fights off her harassers.
It will be interesting to see how the two stories will meet and what will become of the characters in the story. What is clear from the Ishq-e-Laa teasers is that this isn't a run-of-the-mill drama. There's suspense, thrill, and with the two strong female leads. Needless, fans cannot wait for the drama to air!
Sinf e ahan
Meet the fierce & brilliantly talented cast of Sinf-e-Aahan featuring Sajal Aly, Yumna Zaidi, Syra Yousuf, Kubra Khan & Ramsha Khan.
Upcoming Serial Sinf-e-Aahan Drama Cast And Details Ary Drama Digital. Sinf-e-Aahan Drama Cast Starring Nam Sajal Aly, Yumna Zaidi and Kubra Khan Main Lead Role This Drama. Upcoming drama titled as Sinf-e-Aahan which will be co-produced by Humayun Saeed and is to be directed by Nadeem Baig.
New Pakistani Drama Serial Sinf-e-Aahan Cast already gave us creeps. From the initial information, we got to know that the drama will revolve around the women of steel including supremely talented Sajal Aly, Yumna Zaidi, Syra Yousuf, Kubra Khan, and Ramsha Khan.
This drama is a joint venture of Next level Entertainment Shahzad Nasib, Sana Shahnawaz and Six Sigma Plus Humayun Saeed & Samina Humayun Saeed. It will be directed by the maestro Nadeem Baig. Umera Ahmed has penned down the script of Sinf-e-Aahan. The drama will be telecasted later this year on ARY Digital.
Doobara
Bilal Abbas Khan recently took to Instagram to give fans a sneak peak of his upcoming new drama, calledDoobara. Following the success of Dunk, fans were excited to find out that the actor would be returning to the screen so soon and this time with an exciting cast which would see knew on-screen pairings.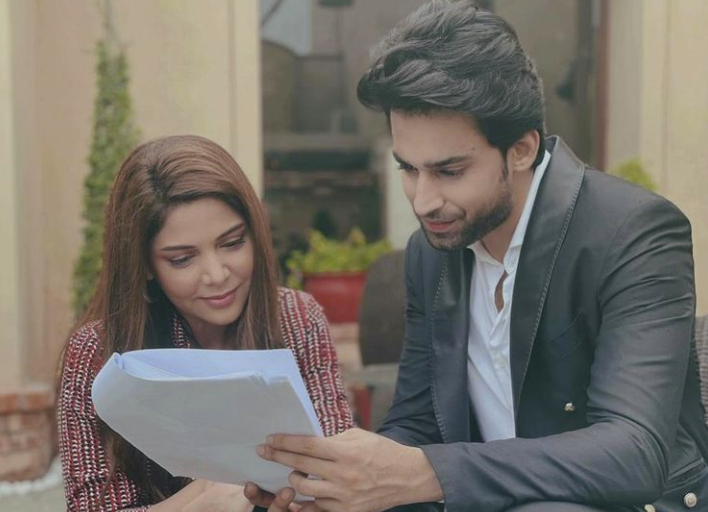 In his post, Bilal Abbas Khan shared a picture of himself and singer turned actor Hadiqa Kiani and shared what can be assumed as the characters' names for the new drama which are "Maahir – Mehru". He went on to appreciate his co-star and wrote, "Such a pleasure working with @hadiqakianiofficial. An amazing human being inside out."
Bilal Abbas Khan and Hadiqa Kiani will be joined by veteran actor Sakina Samo and Usama Khan on the sets. This new drama would be directed by Danish Nawaz.Suno Chandafamed actor Nabeel Zuberi is also rumored to be a part of the cast for the upcoming project.
Mein Hari Piya
Mein Hari Piya is a new drama serial on Ary Tv. The story of Mein Hari Piya is full of emotions and revolves around the hatred that is found in relationships. Mein Hari Piya drama cast includesHira Mani, Sami Khan, Sumbul Iqbal, and Marina Khan. All the drama cast is very talented and full of big stars of the Pakistan drama industry.
Writer: Qaisra Hayat
Producer:BigBang Entertainment
Director:Syed Irshad Ali Arshi
ARY tv has announced his upcoming drama serial Mein Hari Piya, which will air in the first week of October 2021. The drama cast is full of famous Pakistani actors and actresses. Hira Mani, Sumbul Iqbal Khan, and Sami Khan are appearing in the lead roles of Mein Hari Piya. The drama story revolves around a barren girl, who never becomes a mother. She faces a lot of criticism from her In-laws. After that, she forces her husband to marry her best friend for children. The drama story highlights the many social issues suffered by women in our community.
Amanat
It is a romantic drama story. Amanat drama story is full of romance, emotions, and excitement. The incredible acting skills of Urwa Hocane and Imran Abbas make this serial more excited. Imran Abbas performs a different character in the drama serial Amanat. Urwa Hocane is a talented actress and model. She performed in the drama "Mushk" with Imran Ashraf and win the heart of viewers with her strong character of Guddi. Besides Amanat, you will see Urwa Hocane with a new character and look in badzaat.
Amanat has been produced by Next Level Entertainment which has produced many other leading dramas which were super hits. Talented director Shahid Shafaat is going to be the man behind this project. Other than the star leading cast big names such as Saboor Aly, Haroon Shahid, Saba Hamid, Sheheryar Zaidi, and Babar Ali will be seen playing supporting roles in it.
Badzaat
Badzaat Upcoming Pakistani Drama 2021-2022. Badzaat is written by Misbah Nosheen and Siraj-ul-Haq will be directing the drama. It will be produced by 7thSky Entertainment therefore it will be airing on Geo Entertainment. Indeed, this drama serial also has some of the viewers' favorite stars. Imran Ashraf is one of those few stars at the moment who gets everyone excited.
Besides these outstanding cast, Ali Abbas and Saba Faisal will also be seen playing supporting characters. Imran Ashraf and Urwa Hocane's pairing has us excited more than anything else.