After nail-biting 58 laps where Lewis Hamilton and Max Verstappen tried to outrace one another, Max Verstappen emerged as the deserving winner of the 2021 Abu Dhabi Grand Prix Finale! He clinched his maiden F1 Championship in a nail-biting competition against fierce rival Lewis Hamilton.
As Max Verstappen enter 2022 which is going to be the title defending season for him, he has revealed the cool new look of his season helmet that he will be using in his races.
Number #1
The helmet unveil was one of a kind and fans are going crazy over the details, design, and colors of the helmet that Max is going to use in this season.
The Helmet will also have the Number #1 on it, in contrast to the usual #33 this season. According to F1 rules since 2014, the reigning champion is allowed to race with #1 on his car. However, it is a choice and not an obligation for the driver.
Lewis Hamilton, who has been winning all the F1 Grand Prix Finals post 2016 until 2020 never opted for #1 and stayed with his number #44 (bar a 2018 Abu Dhabi practice session where he had the 1).
The Helmet For 2022 Season
Talking about Max Verstappen's 2022 season helmet, it is all white with a glitter of gold sprinkled on it. The gold color is capped of in a design of a lion on top of the helmet. The helmet also has a star on it, that symbolizes the 2021 Abu Dhabi Grand Prix win of Max Verstappen.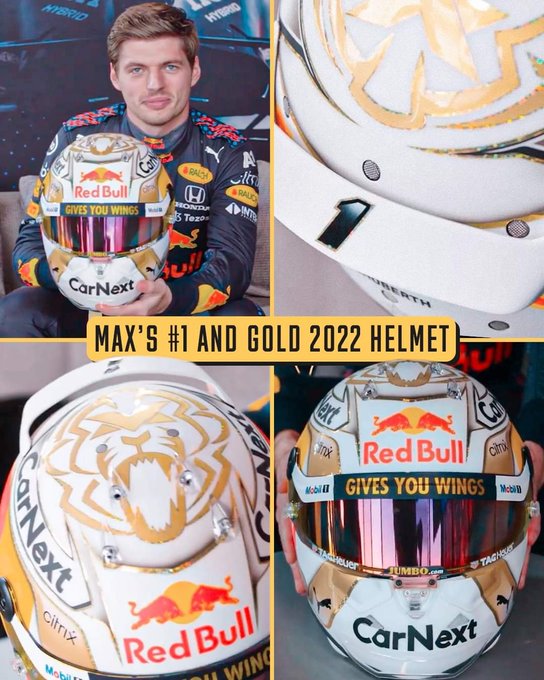 "I also asked for a little star on the back, for my championship win," added Verstappen, who edged Hamilton to the 2021 crown.
"With all the small upgrades and the gold, I think my 2022 helmet looks cool!"
The Abu Dhabi Grand Prix 2021 was a title decider between Hamilton and Max Verstappen of Red Bull as both of them were tied on similar points. But in the final lap, Max Verstappen won over Lewis and claimed the WORLD CHAMPION title!
Tell us what you think about the helmet unveil in the comments.