BTS member Kim Seokjin, popularly known as Jin, recently enlisted in the military and has since undergone a physical transformation that has caught the attention of his fellow BTS members. In a recent Weverse live session, BTS member Taehyung discussed his latest meeting with Jin and commented on the physical changes he had noticed.
BTS fans were in for a treat when Taehyung, also known as V, did a weverse live recently and shared his thoughts on various topics. One of the most interesting things he talked about was his latest meeting with Jin, who is currently serving in the military.
As you may know, Jin was the first BTS member to enlist in the military last year, followed by j-hope yesterday. The military service is mandatory for all Korean men and lasts for about 18 months. BTS members have expressed their support for Jin and j-hope, and have promised to keep in touch with them.
Taehyung revealed that he met Jin when all the BTS members came together to see off j-hope. He said that he was surprised by Jin's physical transformation after joining the military. He said that Jin looked more muscular and sturdy, and even invited him to touch his body.
"As soon as I saw Jin-hyung, he said 'Go ahead and touch me!'" Taehyung said. "Wow, Jin-hyung really.. his body has gotten a lot thicker/sturdier.. he's so cool." (translated from Korean)
He added that Jin was very confident and proud of his new physique. "He was like 'Hey, Taehyung-ah.. try and touch.. (my muscles) have gotten thicker/sturdier,'" Taehyung said.
Taehyung has often praised Jin's personality and sense of humor. Jin is always cheerful and funny, and makes everyone laugh with his jokes.
Taehyung's weverse live was a heartwarming and candid session where he interacted with his fans and expressed his love for them.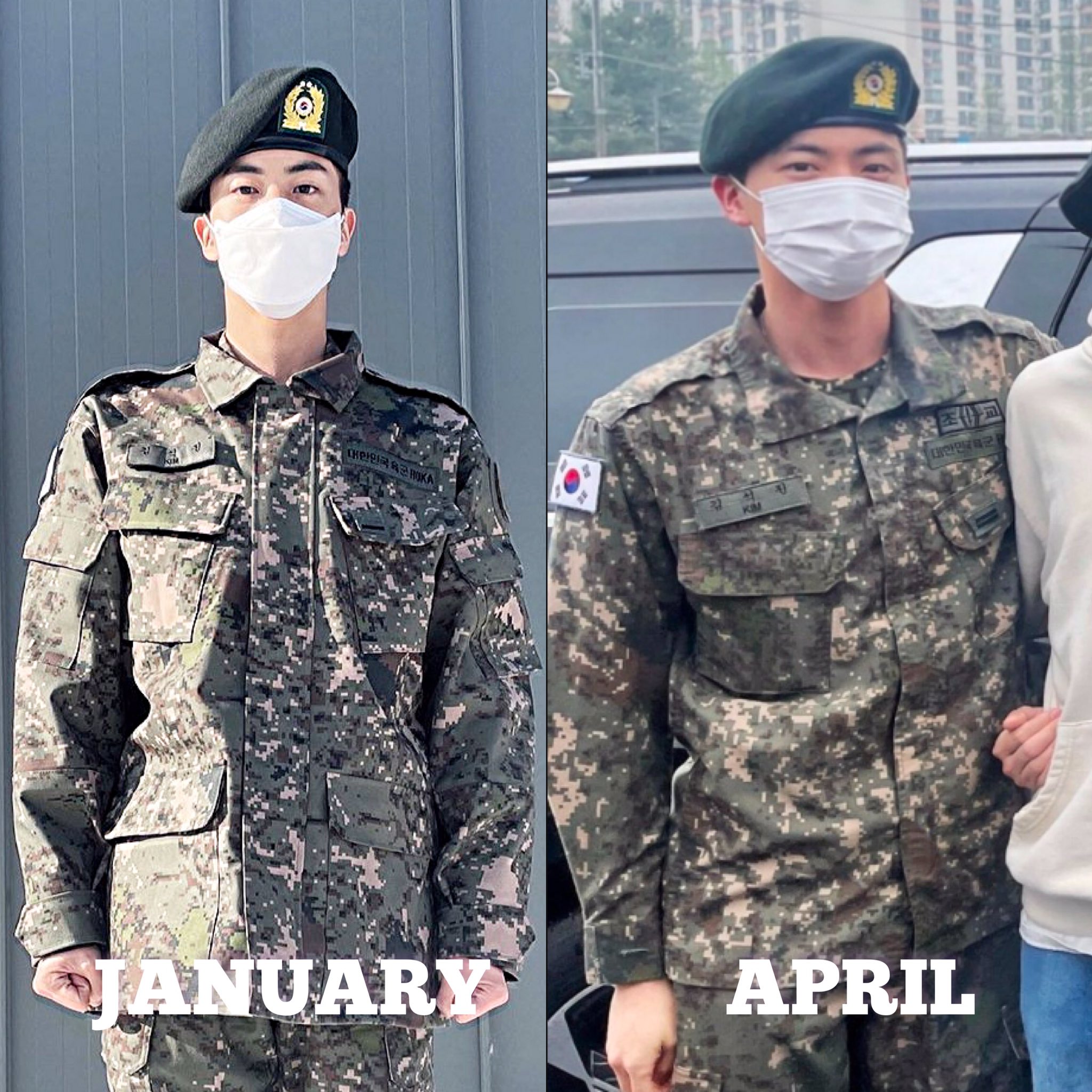 It is not uncommon for individuals to undergo significant physical changes during military service, as the rigorous training and daily physical activity can lead to increases in strength and endurance. However, Jin's transformation has been particularly notable, and his fellow BTS members have been quick to notice and acknowledge his efforts.
Jin's enlistment in the military marked the beginning of a new chapter for BTS, as all members will eventually be required to fulfill their mandatory military service in South Korea. While fans will undoubtedly miss the group's collective presence, the members have been releasing solo music in the meantime. It was recently confirmed that BTS is also releasing an ot7 OST for 'Bastions'. The song will feature all 7 members as it was recorded before Seokjin joined the military.