BTS's Jungkook is known for his versatile and powerful vocals, as well as his charismatic stage presence. But what if he could sing any song by any artist in the world? That's what some fans have been imagining with the help of artificial intelligence (AI) tools that can create realistic-sounding covers using Jungkook's voice data.
The trend of making AI covers has been popular on social media platforms like TikTok, where users can upload their favorite songs and choose a singer's voice to replace the original vocals. Some fans have been using this technology to make Jungkook sing songs by Ariana Grande, The Weeknd, SZA, and other popular artists.
Using data from Jungkook's own vocal recordings, these AI-generated covers have managed to capture his unique style and tone, resulting in a truly convincing performance that many fans can't tell apart from the real thing.
The results are astonishingly good, and some videos have gone viral with millions of views. For example, one video shows Jungkook singing "Starboy" by The Weeknd, while another features him singing "One Last Time" by Ariana Grande. Fans have also made him sing "Swim" by Chase Atlantic, "Kill Bill" by SZA, and many more.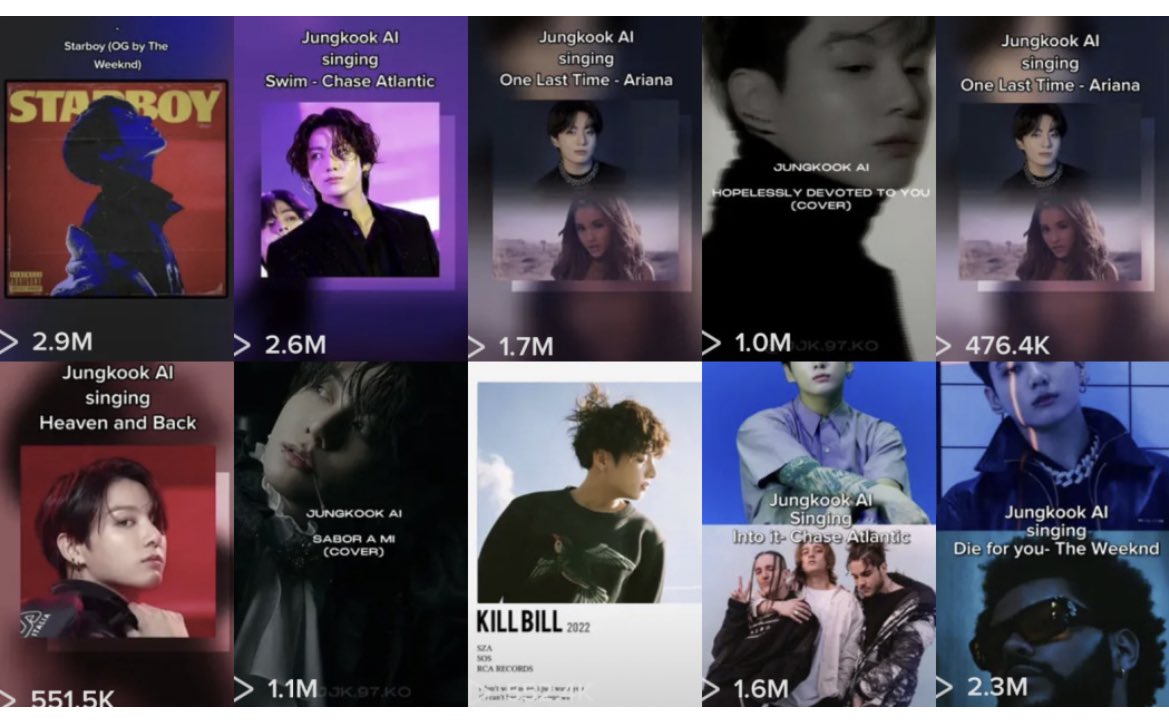 Jungkook himself is a fan of Ariana Grande, and has expressed his admiration for her performance skills in an interview. He said he attended one of her concerts in Los Angeles in 2019 and was moved by her stage presence and vocal abilities. He said watching her made him want to "develop and continue to grow" as an artist.
Despite not having a personal account on TikTok, Jungkook has managed to become the platform's most popular individual artist, with over 180 billion views to his name.
It's not clear if Jungkook has seen or heard any of the AI covers made by his fans, but it's safe to say that he would be impressed by their creativity and love for his voice. Maybe one day he will surprise us with a real cover of one of these songs, or even collaborate with some of these artists. Until then, we can enjoy these amazing AI covers and appreciate Jungkook's talent and influence.