The banker turned parliamentarian has now officialy come on board in an advisory capacity on JP Morgan's Advisory Council.
Sajid Javid now has a seat and say among the 'experienced and qualified' advisors for one of the world's largest Investment Banking Company, Clout news has confirmed.
Know About Sajid Javid
Sajid Javid was born 5 December 1969. He is a British politician who has served as the Member of Parliament (MP) for Bromsgrove since 2010. He is a member of the Conservative Party, he was Home Secretary from 2018 to 2019 and Chancellor of the Exchequer from 2019 to 2020. Javid is the first British Asian to hold one of the Great Offices of State in the UK.
Born in Rochdale, Lancashire to a British Pakistani family, Javid was raised largely in Bristol. He studied Economics and Politics at the University of Exeter, where he joined the Conservative Party.
Javid's Banking Background
Having a seat on JP Morgan's Advisory Council is not going to be a novel task for the former Chancellor of the Exchequer.
Sajid has a background in banking. Not just a plain one, the credentials under his belt speak for himself. Whether it be reaching the VP Position at Chase Manhattan (now JP Morgan Chase) at a tender age of 25 or be it being poached by Deutsche Bank to become the head of emerging markets structuring for EMEA.
– He Was Turned Down By Rothschild
One of the banks that rejected Javid's graduate application was Rothschild. Javid calls the bank 'Male and Elitist'.
– Became Vice President At Chase ManhattanAged 25
Javid graduated in politics and economics from Britain's university of Exeter in 1991 and went straight into a job with Chase Manhattan. He worked in the bank's emerging markets team. Not surprisingly, Chase Manhattan is not a part of JP Morgan Chase where Sajid has been granted a seat in the advisory council.
– He Was Poached By Deutsche Bank in 1997
The bank offered him to become head of emerging markets structuring for EMEA. In 2005, Deutsche promoted him to the global head of emerging markets structuring, based in London. The Conservative party spins Javid's emerging markets experience as,'helping raise investment for developing countries.'
– Became Global Head Of Credit Trading For Deutsche in November 2006
Javid reported into Rajeev Misra, who subsequently left for UBS and built up the Swiss bank's ill-fated fixed income trading business.
Left Deutsche Bank In 2009
Sajid enjoyed the renowned position of a Senior Managing Director at the bank. Thus, he also enjoyed a seat in the Board Of Directors. He had forgone his position to pursue a career in politics and serve the society.
Sajid's Political Career
On 28 May 2009, the sitting MP for Bromsgrove, Julie Kirkbride, announced that she would be standing down at the next general election in light of the expenses scandal; Kirkbride had represented the constituency since 1997. Her resignation was confirmed in December 2009, after she attempted to withdraw it.
After a selection contest held by the Bromsgrove Conservative Association on 6 February 2010, in which he received over 70% of the votes cast by its members, Javid was announced as the official Conservative & Unionist Party Parliamentary Candidate for the 2010 general election.
In 2019 General Election, Javid received 34,409 votes and was returned as the MP for Bromsgrove, increasing his already sizeable majority to 23,106 over Labour.
– Criticism
In March 2018, Javid called Momentum "neo-fascist" in the House of Commons chamber. Momentum threatened legal action if he repeated the comment outside Parliament where parliamentary privilege does not protect him against a lawsuit. MPs including John Mann, Jon Trickett, Chris Williamson, Alex Sobel, Clive Lewis and Caroline Lucas demanded Javid withdraw the statement and apologize.
In July 2018, Javid back-tracked after Jeremy Corbyn had threatened legal action for linking Corbyn with Holocaust denial. Labour MPs accused Javid of "peddling a lie" and called on Theresa May to intervene.
Javid rejected a request by the Muslim Council of Britain for an independent inquiry into allegations of Islamophobia within the Conservative Party. Javid said: "The Muslim Council of Britain (MCB) does not represent Muslims in this country" and added, "we don't deal with the MCB". Harun Khan, the MCB's secretary-general said, "it sadly indicates that the party has no interest in dealing with this matter with the seriousness it deserves".
– Cultural Secretary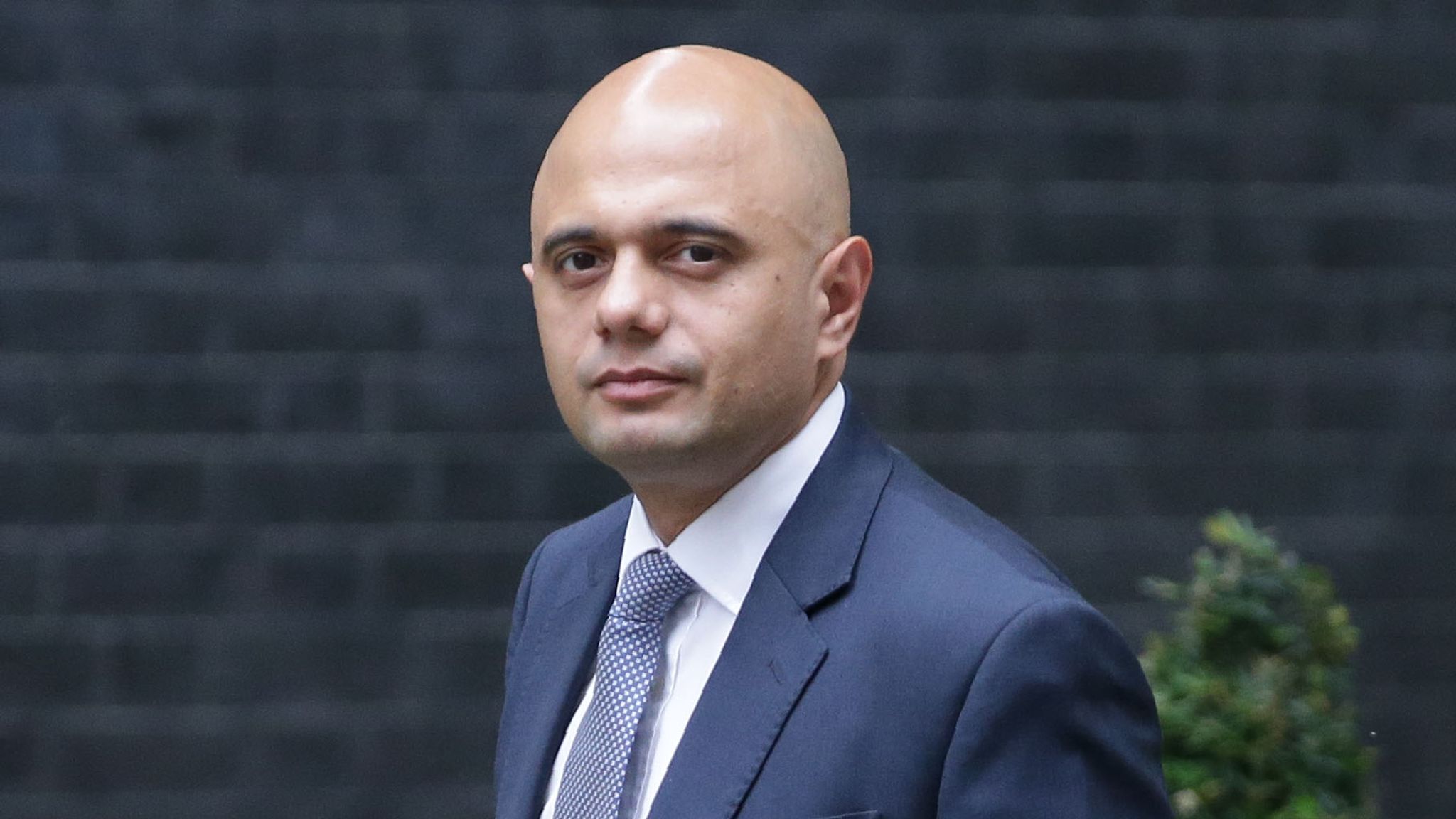 On 9 April 2014, David Cameron appointed Javid to the Cabinet as Secretary of State for Culture, Media and Sport and Minister for Equalities following the resignation of Maria Miller over her expenses. This made him the first MP to have been elected at the 2010 general election to join the Cabinet, and the first British Pakistani MP to lead a Government Department. Shortly after his appointment, he was made a Privy Councillor.
– Business Secretary
Following the 2015 general election, Javid was appointed as Secretary of State for Business, Innovation and Skills in the new Conservative majority government under the leadership of Prime Minister David Cameron. He was at this time described as "the most robust right-winger in the cabinet", and a "true Thatcherite".
After being appointed as Business Secretary, Javid said that there would be "significant changes" to strike laws under the new Conservative government, announcing that strikes affecting essential public services will need the backing of 40% of eligible union members under new government plans
– Communities Secretary And Home Secretary
In July 2016, Javid was appointed Secretary of State for Communities and Local Government by Prime Minister Theresa May. In January 2018, he gained the additional portfolio of Housing in England. In the role, he focused on increasing housing supply, including delivering a new generation of affordable and council housing.
On 30 April 2018, Javid was appointed as Home Secretary following Amber Rudd's resignation for misleading MPs about "targets for removing illegal immigrants", a consequence of the ongoing Windrush scandal.
– Chancellor Of The Exchequer
On 24 July 2019, Javid was appointed Chancellor of the Exchequer in the new Boris Johnson cabinet. Upon his appointment, he tweeted that he was looking forward to working at the Treasury to prepare the United Kingdom for leaving the EU.
Currently, he has been replaced by his deputy, Rishi Sunak, the chief secretary to the Treasury, who is a favourite within No 10. Javid, who had been in post since last summer, repeatedly clashed with Johnson's senior adviser, Dominic Cummings, over issues such as restraints on spending.
Sajid And JP Morgan
JPMorgan Chase & Co. is an American multinational investment bank and financial services holding company headquartered in New York City. JPMorgan Chase is ranked by S&P Global as the largest bank in the United States and the seventh largest bank in the world by total assets, with total assets of US$2.687 trillion.
Sajid is a bright individual and being in the advisoy council at JP Morgan will yield hefty benefits to both Sajid and the Investment Banking Firm. This is yet another badge that the Former Chancellor and Banker has earned which will enshrine in history.