While Met Gala earns its reputation for being one of the grandest and prestigious celebrity fashion events of the year, it is very well losing the stature it once held! Why?
Met Gala is an annual event that revolves around a central theme and the most well-known Hollywood and fashion personalities are invited to show up in their best appearance wearing the best lavish outfit! The event was canceled in 2020 due to the ravaging pandemic but now it seems to be back.
Rumored Guest List
Met Gala 2021 is scheduled to take place in September and a 'rumored' guest list circulating on the web has already made the fans unhappy. On the list are TikTok personality Addison Rae and YouTuber Emma Chamberlain. Having internet personalities on the 'rumored invitees list' is not at all surprising. In the last Met Gala event in 2019, social media influencers like James Charles and Liza Koshy were invited.
This prompted a backlash from users on the internet because netizens feel that social media influencers are not so high-profile that they should be invited to an A-list celebrities event of the year. Other guests on the list are Jennifer Lopez, Shawn Mendes, Rosalia, Blake Lively, Beyonce, Gigi Hadid, Lady Gaga, Bella Hadid, and more.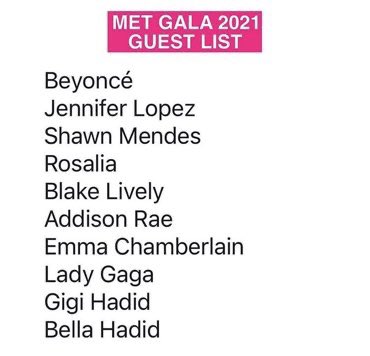 Do you think social media personalities deserve to be invited to Met Gala events? Tell us your thoughts in the comments!
Fans Are Unhappy
The theme for this year's Met Gala night will be American Fashion. The theme in 2018 was 'Heavenly Bodies' and 2019's theme was 'Camp'.
Talking about the rumored invitees' list for Met Gala 2021, fans took to Twitter to express their opinions. One user wrote, "I'm just gonna say it, no one wants to see Addison Rae at the met gala". Another Twitter user posted "Like a lot of these I get, but Addison Rae? Emma Chamberlain? Are they going to do some dance and wear vaguely thematically related Brandy Melville?"
Meanwhile, TikTok and Internet personality Addison Rae recently appeared on singer Charli XCX's podcast 'Best Song Ever. While the two discussed a host of topics, one topic stood out! Find out which was this topic here.