A train has derailed near Stonehaven in Aberdeenshire, sparking a major response from emergency services.
About 30 emergency vehicles – including air ambulance support – are at the scene, with more continuing to arrive.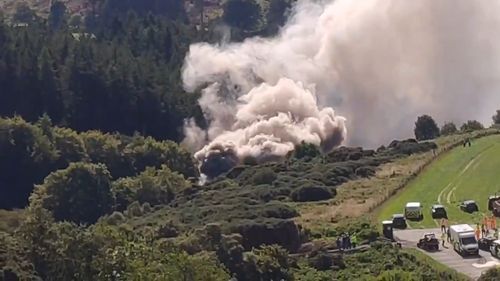 The News Broke Out On Twitter
There are reports of serious injuries after a passenger train derailed in Scotland, First Minister Nicola Sturgeon has confirmed.
She described it as an "extremely serious incident".Emergency services rushed to the scene at Stonehaven, Aberdeenshire, about 180km north of Edinburgh, at 9.43am local time (6.43pm AEST).
First Minister Nicola Sturgeon described it as an "extremely serious incident" and said she was being kept updated on developments.
"All my thoughts are with those involved," she said.
"An extremely serious incident on the rail line west of Stonehaven, where a ScotRail passenger train derailed earlier this morning," Ms Sturgeon told the Scottish parliament. "I have just come off a call with Network Rail and the emergency services and, although details are still emerging, I am afraid to say there are early reports of serious injuries."
The UK transport minister, Grant Shapps, saidhe had been briefed on the accident by Network Rail, tweeting: "British Transport Police and Network Rail are on location, along with rail workers who were nearby. The UK government will provide every support. My thoughts are with those involved and their families."
The Accident Spot And The Current Status
Torrential rain and thunderstorms have caused flooding and travel disruption across many parts of central and eastern Scotland.
Some witness reports on social media suggested the train had fallen down an embankment after running into a landslip.
North-east Scotland was one of the areas badly affected by torrential rain and thunderstorms overnight, with flooding causing travel disruption and continued school closures on Wednesday morning.
The River Carron burst its banks and was pictured flowing through Stonehaven's town centre. Plumes of smoke have been seen rising above the crash site.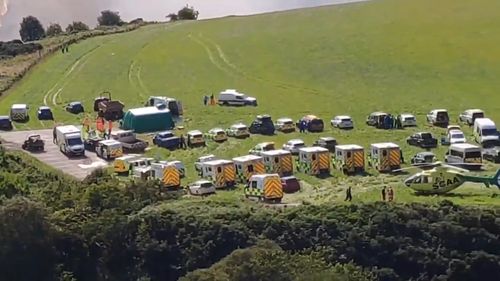 Mick Lynch, the assistant general secretary of the Rail, Maritime and Transport union, said: "RMT is aware of the major incident at Stonehaven and our reps are liaising directly at senior level with both ScotRail and Network Rail.
"Our priority at this time is to support our members, their colleagues and their families and to do all that we can to assist the rescue operation which RMT members are currently involved in.
"The facts behind this incident will need to be established in due course but at this stage we are focused on support and assistance and our thoughts are with all those impacted by this tragedy."
National Rail has also confirmed a disruption on the LNER line between Aberdeen and Leeds, with all lanes blocked. Scotland's national rail provider, ScotRail, has also said it is helping in the emergency efforts.